Microsoft Excel is used by many people to open and edit Excel files. The complete version of Excel is, however, a paid product. These free apps can open, modify, and create Excel spreadsheets if you prefer a free alternative.
Excel Online
Microsoft provides a web-based version of Office that includes Excel. Excel Online has Excel's fundamental functionality but lacks the paid version's advanced features, such as macro support.
Microsoft Excel Online is compatible with the majority of web browsers. It can be used to edit existing XLS and XLSX files and create new workbooks.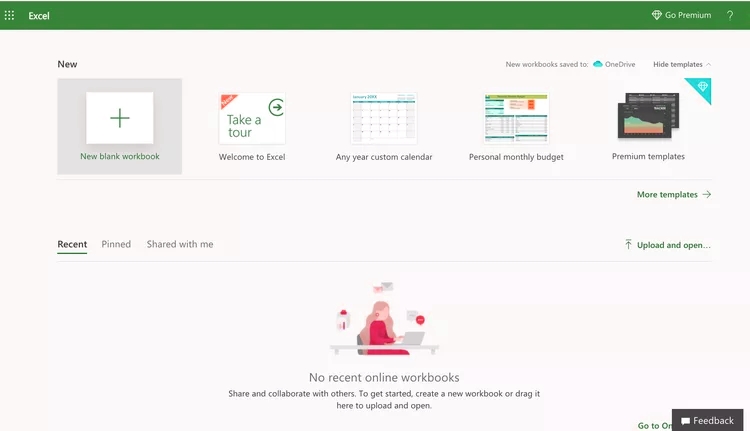 Using the integration between Office Online and Microsoft OneDrive, you can store your spreadsheets in the cloud and collaborate in real-time.
Microsoft Excel App and 365 App
Excel is available as a standalone program for Android and iOS, with features that vary by platform. In addition, a unified Microsoft 365 iOS app contains Excel, Word, and PowerPoint.
You can create and modify spreadsheets for free on an Android device with a screen size of 10.1 inches or less. If you use the app on a larger smartphone or tablet, a subscription to Microsoft 365 is required to do more than view Excel files.
Excel documents can be created, edited, saved, and viewed for free on an iPad, iPhone, or iPod touch using the Excel standalone iOS app or the Microsoft 365 iOS app. However, advanced features necessitate a Microsoft 365 subscription.
Microsoft 365 Home Trial
Microsoft's free offerings, including the browser-based Office suite and the Excel app, have limited functionality. If you need access to Excel's sophisticated features but do not wish to purchase Excel, the trial version of Microsoft 365 may be a temporary solution.
After activation, the full version of Microsoft Office Home Edition (including Excel) can be used on a combination of five PCs and Macs. The Excel application can be installed on five Android or iOS smartphones and tablets.
To begin the 30-day trial, you must supply a valid credit card number. If you do not terminate your subscription manually before the trial period ends, you will be charged for a 12-month subscription.
Office Online Chrome Extension
The Google Chrome extension launches a robust version of Excel in a browser window. It is compatible with all desktop operating systems.
LibreOffice
LibreOffice is a suite of open-source software that is available for free distribution. It includes Calc, a substitute for Microsoft Excel that supports XLS and XLSX files, and the OpenDocument format.
Calc provides a number of the spreadsheet features and templates found in Excel. It contains multi-user capabilities that facilitate collaboration. It also includes several components for advanced users, such as DataPivot and a comparable Scenario Manager.
Read More: 10 Best SEO Tools for SEO Experts in 2023
Kingsoft WPS Office
Spreadsheets, compatible with XLS and XLSX files, are included in the personal, free-to-download version of Kingsoft WPS Office. In addition to fundamental spreadsheet functions, Spreadsheets have data analysis and graphing tools.
Spreadsheets can be installed on Android, iOS, and Windows as standalone applications.
Apache OpenOffice
Since its initial publication, hundreds of millions of copies of OpenOffice have been downloaded. It is accessible in more than thirty languages. Calc is the name of the spreadsheet application included with OpenOffice. It supports fundamental and sophisticated features like Excel file extensions, macros, and file formats.
Calc and the remainder of OpenOffice may be discontinued due to an inactive developer community. If this occurs, essential updates, such as security vulnerability upgrades, will not be available. At that juncture, we advise you to stop using the software.
Gnumeric
Gnumeric is an open-source, standalone spreadsheet application. This open-source program is updated frequently. It supports all Excel file types and can accommodate enormous spreadsheets.
Google Sheets
Sheets is Google's response to Excel Online. The sheet is a browser-based spreadsheet with complete functionality. It integrates with both your Google account and Google Drive on a server. This application features advanced functionality, templates, add-ons, and real-time collaboration, all easily accessible.
Sheets is fully compatible with Excel file formats and is available for free. In addition to the web-based version for desktops and laptops, apps for Android and iOS devices are available for Sheets.